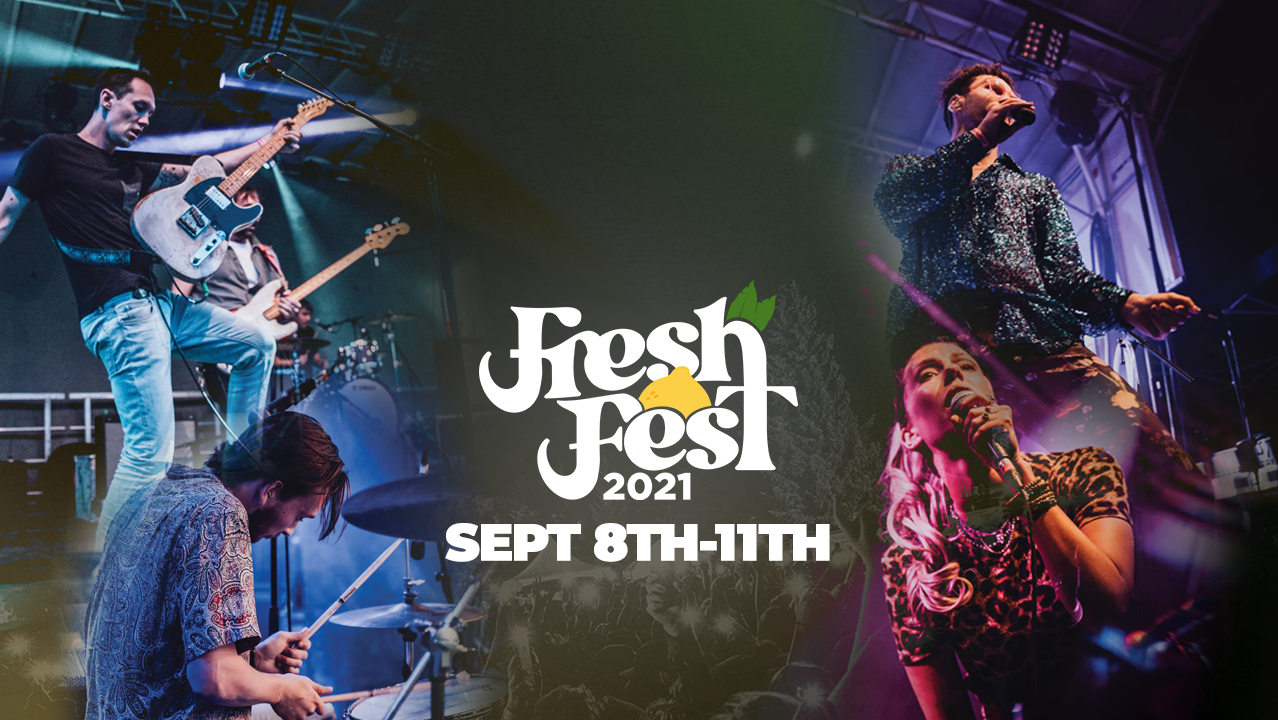 Fresh Fest 2021
The ULSU is proud to present this year's Fresh Fest! Celebrating 14 years of Fresh-tivities welcoming students back to the University of Lethbridge.

This is a Student Only Event, you must be a currently-registered UofL student to attend. Non-UofL-students will be not be permitted under any circumstances. Please see below for more information regarding refunds and our updated students-only policy.

IMPORTANT UPDATE REGARDING COVID-19:

To our valued first-year students, returning students, and overall student body,

Under the direct advisement and discretion of the University of Lethbridge Office of the President, as well as under the recent updates to COVID-19 policies by the Government of Alberta, we regret to inform you that the ULSU has had to make the difficult decision of cancelling the Jamboree Music Festival, Beach Cabaret, and Slip'N'Slide portions of this year's Fresh Fest 2021 week of events.

It has always been the utmost priority of the Fresh Fest 2021 team to maintain the health and safety of our attendees and overall student body. With the increasing rise in cases of COVID-19 in Southern Alberta, we no longer believe we can confidently host an event of such density while maintaining proactive safety and health measures for all of our valued attendees, staff, and artists. Although we have been working for months to diligently identify and proactively plan against the threat of COVID-19, we have elected to cancel the event instead of creating the possibility of exposing students to the threat of this virus.

We do not make this decision lightly, just as all of our updates have been delivered with careful consideration and under advisement. In light of this cancellation, the ULSU will be providing full refunds to all Fresh Fest attendees who have purchased a ticket to this year's Jamboree event.

While we are deeply saddened at the cancellation of the Jamboree Music Festival, Beach Cabaret, and Slip'N'Slide events, we are pleased to communicate that we are still offering a variety of free and fresh events to safely get to know your classmates and engage with the welcome back activities to new and returning students back to campus.

Please keep in mind that all previous safety and health policies are still in effect at Fresh Fest 2021, including masks are to be worn at all times at all indoor and outdoor events, non-UofL-students are not permitted at our events, and all attendees must be able to provide proof of vaccination or be able to pass a free rapid COVID-19 test.

We truly would like to apologize to our students who this update affects, and we are thankful for our attendees for helping to maintain the safety and health of themselves and their fellow students.

Schedule of Events:
Wednesday, Sept 8th
Fresh Fest Beach Party, 9pm - 2am

Thursday, Sept 9th -
Covid Memorial Concert 11am - 12:30pm
ORS Luau - 12pm - 4pm (please confirm)
Fresh in Drag - 4pm - 8pm

Friday, Sept 10th -
Indigenous Awareness 12pm - 1:30pm


Volunteer Information:

Fresh Fest 2021 is looking for volunteers to help pull off the freshest event of the year!

Possible volunteer positions include:
Set-Up
Take-Down
Ticket Sales
Street Teams
Decorations
Audio
Doors
Ticket Taker
Runner

For more information contact Madina Ali, Volunteer Coordinator, at madina.ali@uleth.ca. Click HERE for Volunteer Registration!