LCB Ticket Information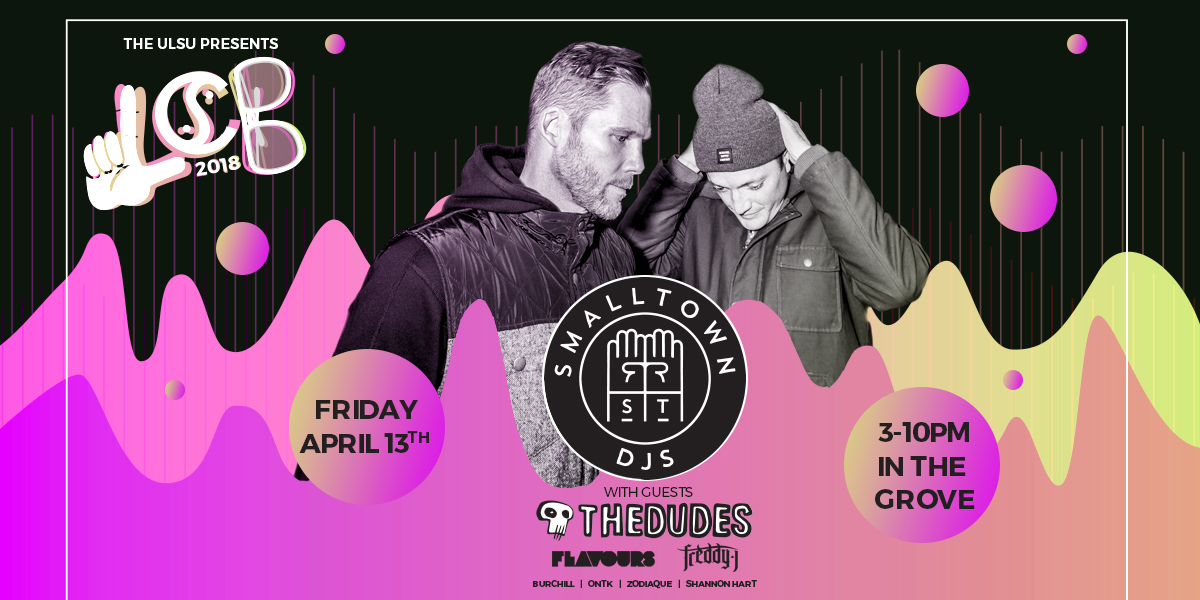 The ULSU is proud to present this year's Last Class Bash!
LCB will be running in the Grove next to Markin Hall and the Students' Union Building.
Gates open at 3pm and will run until 10pm, followed by an after-party hosted in the Zoo.
This year's event featuring:
Smalltown DJs
The Dudes
Flavours
Freddy J
Burchill
ONTK
Zodiaque
Shannon Hart
After-Party line up to be announced.
$10 Presale Tickets Available | $15 at the gate
Redeem your presale tickets at the LCB grounds for a wristband, wristband permit access to LCB Grounds and the Zoo After-Party.
Limited Presale Tickets available
18+ event, MUST HAVE a government & student ID to enter the event grounds, or be a guest of a current student.
---
Smalltown DJs (Calgary, AB) - https://www.smalltowndjs.ca
The Smalltown sound is fun bass-heavy house music, combining the spirit of Canada's outdoor electronic music festivals such as Shambhala & Bass Coast, with the sound they cultivated at the legendary Hifi Club in Calgary (which they own and operate). The boys have released music most recently on various labels including Fool's Gold, Sweat It Out!, Mad Decent, Main Course, and more. They have played shows across the globe from the Mad Decent Block and Boat Parties, to Fabric in London & U-Hall in DC, and Bestival in Toronto.
With highlights that include appearances on Diplo & Claude Vonstroke's radio shows, a one-year stint in Las Vegas, the yearly Mountain Magic Tour with Christian Martin (of Dirtybird) and friends, and their collaboration with Shad & Wax Romeo "Boom Ha" being featured in the HBO show "Girls".
In 2017 they have new music on Twonk, Psycho Disco and Fools Gold, and a healthy tour schedule to support the latest releases, as they continue to push their forward thinking sound and positive message to the dance music masses.
The Dudes (Calgary, AB) - http://www.wearethedudes.com/
The Dudes are legit. They make rock songs that come from the most closely guarded vaults of the emotional banks. They sing about the triumph of good over no good. They trumpet the march of the working class lady. They tell stories of love gained and lost, knife fights, cops and kindness. The Dudes want you to see them play live. They would like you to laugh and dance. After the show, they want to give you a high five. Matt will teach you a special handshake. Bob will ask you for your phone number. They used to have a brown van that took them across Canada thrice. Now its paid the price. She's sitting along the highway at a petrocan in Winnipeg and the last they checked, the doors were still unlocked. You know, if you want to go sit in it or something. Soon they will come to your town in a blue van. Will you be there? Maybe sleep on your floor?
Flavours (Edmonton, AB) - http://www.itsflavours.com
Jordan Andrew, better known by his stage name "Flavours", is a turntablelist and multi-genre music producer from Edmonton, Alberta. The son of Canadian Jazz legend Chris Andrew, Flavours continues the family tradition by bringing incredible talent to stages across North America. Championing the new sound of future funk (a mixture of disco,glitch, jazz and hip-hop), Flavours' productions have found support around the world. Recent credits include his debut EP on Westwood Recordings, which gained support from funk heavyweights such as Krafty Kuts, Featurecast and Stickybuds. This EP streamlined a summer tour where he performed at Motion Notion, Centre of Gravity and many others. 2015 he released his first professionally shot turntablism music video, which acclaimed heavy support from both DJ Mag Canada & DJ Techtools. With over 500,000 Soundcloud plays in 2016 alone and shows in New York, L.A., Vancouver, San Diego and more, this young talent is ready to up the ante for 2017.

Freddy J (Calgary, AB) - https://www.facebook.com/FreddyJBass/
Having begun his path in 2001, Freddy J has been on a focused mission of constant development, molding his unique style to deliver dancefloor mayhem all across western Canada. He unfailingly brings you some of the best bassline driven electro funk every time he plays, which can be described as a mixture of electro, funky, dirty, whompy, groovy, bassy, crunky, and flat out good time having house and breaks. His mixes are guaranteed to bring anyone to their feet and you can count on it that he'll set the tone for a good time, every time. Recent years have seem him cementing his status as one of western Canada's "must see" dj's all over Canada at numerous events in including the Fractal Forest at Shambhala in 2008, and at Motion Notion in 2009. The only way to explain the vibe to your friends is to tell them that Freddy J will get them shaking their asses all night long. In summary, what more can be said about this one-of-a-kind DJ, other than that his stylish blend of music is like none other, and can only be witnessed by being part of the crowds he rocks each and every time he plays... This is one DJ you won't want to miss.
Burchill (Calgary, AB) - https://www.facebook.com/burchillmusic/
Fresh off a 2017 tour of the Canadian West Coast festival circuit, Burchill is becoming the go-to-guy when it comes to delivering sets with selections from a wide range of genres: funk, house, bass, it doesn't matter to Sean; good music is simply good music.
Over the course of Summer 2017 Burchill's brought his unique, open-format style of mixing to the stages of Motion Notion, FozzyFest and Lethbridge Electronic Music Festival - not to mention being a frequent opener for shows at Calgary's legendary Hifi Club and winning the 2017 Dirty Tones Entertainment DJ Competition too.
Building off reputation gained for his breakout "Different Flavors" Soundcloud mix series, Burchill is gearing up to release some of his own original tracks when 2018 rolls around - stay tuned!

Our Neighbor The King (Lethbridge, AB) - http://ontk.org/
Our Neighbour the King (ONTK) is a Canadian hip-hop collective originating from the borderlands of Lloydminster. The group consists of producers Yahtzen and Lady Beatriss, with vocals provided by ChronicPhonics, DK, SpiLLy, SP_CELION, Big Bare and more. Their debut album O.N.T.K. draws from the histories of hip-hop, comics, and science fiction to deliver a vinyl sample-based exploration of life on the prairies' edge; an ironic, tongue-in-cheek analysis of sideline views and urban fence-sitting.
Zodiaque (Lethbridge, AB) - https://soundcloud.com/zodiaquemusic
Shannon Hart (Lethbridge, AB) - https://soundcloud.com/djshannonhart